Profile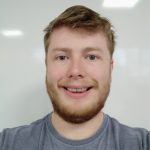 Jake Cunningham
Your Scientist ID:
Education:

St Kilians, University College Dublin, Maynooth university

Qualifications:

Bachelors degree in Theoretical physics, PhD (In progress)

Work History:

Event coordinator for INORE, Shop assistant in Costcutter, giving grinds to students for Junior cert and Leaving cert in maths, physics and applied maths

Current Job:

PhD student

Employer:
About Me: Hi my name is Jake, and I'm always up for a bit of fun. I love rugby, football and adventuring. I also love surfing, but I'm not too sure if it loves me (I spend more time falling than standing).

Read more

I was born in California, USA and I moved around a lot when I was a little kid. I lived in England, then I moved to Dublin, then to Waterford and finally back to Dublin. I am still living with my Mum and younger sister and our little puppy, Jessy. Jessy is a Cavachon and is only 5 months old so we are still trying to train her. She loves belly rubs and playing outside (when it's not raining). I love listening to music, reading, playing and watching rugby and football and surfing, though I spend more time falling than standing, but it's all in the name of fun. My favourite football club is Chelsea and my favourite rugby club is Leinster. I studied theoretical physics for my undergraduate degree, where I learnt about the stars, oceans and all sorts of cool stuff. I care a lot about our environment and climate change, so I decided I wanted to learn more about the ocean and sea to work on the practicality of wave energy in Ireland. My pronouns are he/him

.

My Work: I'm a water and electricity scientist, I work in trying to make electricity from waves in the sea and ocean. I do this by using some funky math.

Read more

I am a scientist that is working towards using the waves in the sea and oceans to make electricity to help power your phones, TVs and computers. I work on trying to copy the sea onto my computer using math. Using this copy I look at how a wave energy device behaves. I work on the behaviour of the device. I do this by looking into my crystal ball of math and seeing what the device is going to do in the future. When I know what the device is going to do we send out a signal to correct the behaviour of the device using some computers. We do this so that we can get as much electricity as possible from each wave. But for this to work we need the computers to be working as fast as possible and sometimes the math is a bit too complicated for the computers to solve the first math equations fast enough, so I need to make some assumptions to try to simplify it for computer to work quickly.

When I find something interesting I get to write about it and then present it at a conference. I was recently in Naples, Italy for a conference where I presented a paper of mine. But, it's not all work at conferences, you get to talk to interesting people and they usually try to set up activities for everyone. For example, we got to visit Pompeii at this conference.

My Typical Day: I get up before the sun rises! Then I wake myself up with a warm cup of coffee and I travel to my desk in Maynooth. When I am at my desk I get to play on my computer all day.

Read more

I wake up at 05:30 and crawl out of bed to brush my teeth and have a quick shower. I quickly make myself a nice warm cup of coffee to get the blood flowing. I chomp down some breakfast (usually some delicious rice krispies or coco pops) and I leave to go to Maynooth. When I arrive out in Maynooth I go to my desk in the electrical enginerering building. There I will play on my computer, trying to solve as many problems as I can until lunch time. Lunch time for me is usually about 12:00, here my friends and I will have lunch sitting on the couches. Usually after eating we like to mess around a little just before getting back to work. Until around 15:30-16:00 when I leave to go the gym. I get home from the gym around 17:30 where I will then try to teach Jessy some new tricks. Then after a while I will usually take her out for a walk where we play in a park until dinner is ready. After dinner I like to relax by watching some TV and get ready for the next day.

What I'd do with the money: Build your own wave energy device.

Read more

If I won the €500 prize money I would use the money to buy supplies for a workshop for students to learn more about wave energy and electricity. I would need to buy supplies for the design of the wave energy devices and to convert the movement of the device to electricity. These supplies would be used by students (you guys) to design and make your very own (small) wave energy device.
My Interview

How would you describe yourself in 3 words?

adventurous, clumsy, determined

Who is your favourite singer or band?

Future Islands, Otis Redding, Franc Moody and Sticky Fingers are to name a few

What's your favourite food?

Pizza

What is the most fun thing you've done?

Tough question, I would say it's between cliff jumping in Lynn canyon and white water rafting are some of the funnest things I've done

What did you want to be after you left school?

I didn't know

Were you ever in trouble at school?

Sometimes

What was your favourite subject at school?

Maths

What's the best thing you've done as a scientist?

I think the best thing I have done as a scientist was when we did the methane bubble experiment and I got to hold the bubbles as we set them on fire.

What or who inspired you to become a scientist?

I wanted to understand more about the world around me, Leonardo da Vinci is my favourite scientist/engineer/artist/everything

If you weren't a scientist, what would you be?

An explorer

If you had 3 wishes for yourself what would they be? - be honest!

Easy, I would wish for infinite wishes for my friends, family and of course myself.

Tell us a joke.

Why is the ocean so salty?... Because the land never waves back
My profile link:
https://watern19.imascientist.ie/profile/jakecunningham/
---
---