Profile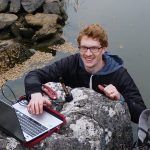 Philip Schuler
Your Scientist ID:
Education:

BSc Geography (University of Vienna, Austria); MSc Integrate Water Resources Management (University of Applied Sciences, Germany); PhD Environmental Engineering, Trinity College Dublin

Qualifications:

(Statistical) data analysis; geographical information systems (GIS); groundwater flow modelling; scientific writing

Work History:

3 1/2 years for the German Federal Institute for Geosciences and Natural Reources (BGR, the German 'Geological Survey') in two technical cooperation projects related to protecting and managing groundwater in Lebanon and in the Niger River Basin, West Africa

Current Job:

Researcher at Trinity College

Employer:
About Me: German lad who moved to Ireland four years ago to start a PhD in "karst groundwater flow modelling".

Read more

I enjoy watching and playing football, hiking in the mountains, chanting "Omm" during yoga classes, running, meeting friends, and spending time with my little family at home.

My Work: I investigate the different ways groundwater flows in "karst" to use then this understanding to simulate these flow dynamics.

Read more

Almost half of Ireland is covered by limestone rocks. These rock formations exist throughout the world, much of the for example in the Mediterranean region, but also elsewhere.

Limestone rocks can be sometimes easily identified in the environment becasue of their amazing shapes for example such features:

In general, limestone rocks are important aquifers (a geological formation that can store and transmit water), yet, they are prone to pollution becasue pollutants can easily enter the rocks via rain water.

Once rain water enters the aquifer, it flows – and very mcuh in different ways that are sometimes very difficult to understand. Water flows through little cracks, or even perhaps in huge caves!

Anyway, my work deals with understanding how water flows in such karst aquifers. I have three "study sites", which are areas in which I conduct my research, in Ireland. Importantly, I have different sensors that monitor things like rainfall or water levels. Such information is very important to understand how groundwater eventually flows.

Therefore, part of my work was to install "monitoring stations" in these study sites. That's a tricky job, becasue at the beginning, you may not know where to observe what! So for that, it's important to look into studies that already did research in your study area (can be unlikely!) or at least in the wider region.

A monitoring station consists of a sensor that records, for example, water depth, in a pre-defined interval (e.g. every hour) and stores this information on a data logger. So after installing a monitoring station, I frequently go and visit this site, to check that power supply (batteries) are still fine, that the instrument is still working (there are always technical issues and surprises!), and to download the data from time to time to use it at the office. So this work is quite time consuming, I drive all over Ireland, to for example, download a few stations' data…see photos below to get some impressions. I love this work becasue I love being outdoors (and yes, when it rains too!). For example, one of my study sites is in the Burren – I often go there and explore new places every time, to an area where people come to spend their vacations. I often feel very lucky there.

Anyway, once back at the office, the mjor part of my work starts: analysing the data to understand what's going on in the environment – where and how does water flow in the underground before being discharged by springs! For this part of work, I deal a lot with numbers, applying statistical analysis,  etc.

Once I have an understanding ('conceptual model') of the environment, I move on to use a software to simulate rain infiltration ('recharge') and flow in the underground, to mimic the behaviour of the data that I gathered in the field.

As part of this whole process, I write down what I am doing – ont only to not forget about it, but because the value of the work I am doing relates to the fact that other people can see and understand what I am doing, and then use my results for their work. Therefore, I travel to conferences where I present my work to other researchers and talk to them and discuss our work. This can be loads of fun!!!
Also, I write of course a thesis as well as scientific papers for journals.

My Typical Day: 1 out of 15 days I go out "on site", into the field to for example, collect data. However, most of the time I do spend in the office

What I'd do with the money: I'm not aware about STEM activities to support with this money, but I'm aware about the terrifying level of homelessness in Dublin, so I'd love to see the Daisyhouse Association (http://daisyhouse.org/) and their effort on supporting homeless women supported.
My Interview

How would you describe yourself in 3 words?

curious, persistent, courageous

Who is your favourite singer or band?

I am so bad with "favourites"...

What's your favourite food?

vegetarian or vegan things I suppose

What is the most fun thing you've done?

traveling and working around the world in 11 months after high school wasn't too bad. A highlight was certainly acting as an extra at the Bollywood studios in Mumbai

What did you want to be after you left school?

Someone with an answer to that question

Were you ever in trouble at school?

Oh dear

What was your favourite subject at school?

geography and political sciences

What's the best thing you've done as a scientist?

Abseiling 50 below ground into a cave reaching a waterfall, there injecting loads of fluorescent dyes and see if it emerges a few days later in the sea (it did!), >10 km away onboard of a boat over a period of four days

What or who inspired you to become a scientist?

A previous boss who I worked with in a project on groundwater protection in Lebanon

If you weren't a scientist, what would you be?

I guess using somehow the scientists' results for some sort of decision making processes

If you had 3 wishes for yourself what would they be? - be honest!

Stay healthy and vital as long as possible; being closer to family and friends in Germany;

Tell us a joke.

Why is six afraid of seven? Becasue seven eight nine...
My profile link:
https://watern19.imascientist.ie/profile/philipschuler/
---
---